4bc Radio Interview with Claire Blake, 5 November 2014
3MDR Radio interview with Peter Haddow, 7 November 2014
SBS Radio interview with Maridel Martinez-Andanar, Producer, Filipino Language Program, November 3 2014
---
The Breakfast Table Radio Interview with Debra Mar, 17, November 2014
If you are a happy sad mummy dealing with bipolar or other conditions that affect your children, this is the book for you.
Debra interviewed author Michelle Vasiliu this week around The Breakfast Table who provided an insight in to how her young family cope with a happy sad mummy, herself being diagnosed with bipolar – A great resource!
---
 The Sounds of Bayside: Best Medicine Radio Interview with Gaytana Adorna, 18 November 2014
---
Radio Interview with Brainwaves, an independent radio station sponsored by The Mental Illness Fellowship of Victoria, 3rd February  2016.
---
Radio Interview All in the Mind, ABC Radio National with Lynne Malcolm,
5 February 2017
---
Radio Interview ABC Radio Brisbane, Queensland, 17 February 2017
---
Webinar presentation with the International Bipolar Foundation, 20 July 2017
---
Blog Post The International Bipolar Foundation, 17 March 2018
The Correlation Between Insomnia and a Manic Episode: A Personal Account by
Michelle Vasiliu
http://ibpf.org/blog/correlation-between-insomnia-and-manic-episode-personal-account
Interview The Berwick Leader newspaper, 28 November 2014
---
Review From ReadPlus Jan 06 2015
My Happy Sad Mummy by Michelle Vasiliu

Ill. by Lucia Masciullo. JoJo Publishing, 2015. ISBN 9780987358684
My Happy Sad Mummy is a first in my experience; a picture book specifically written to explain bipolar disorder for a pre-school audience. Written to fill a need the author herself discovered, whilst searching for an aid to explain her own mental illness to her young children, this book will be an invaluable resource for families living the same experience.
Written from the point of view of a young child whose mother has days when she is so happy, talkative and active that she doesn't want to stop, and other days when she cries all day, sleeps and does not interact with the enthusiastic child. Dad explains that Mum is ill and sometimes needs medication and other times, needs to go to hospital to be looked after. When that happens, Grandpa and Grandma come to help look after her.
The text is easy to read, factual and to the point;
'Sometimes Mummy's very happy. Sometimes she is very sad.
Sometimes Mummy's in hospital. Sometimes she's at home.'
The muted full page illustrations add more layers of meaning to the story as we see the child worried and anxious, but also witness the mother's highs and lows. The joy shown by both in the final illustration gives hope for a positive future.
In the forward by Professor Phillip Mitchell, director of the Black Dog Institute, we are reminded that as bipolar disorder ' . . . usually begins in late adolescence, or during the twenties, many with this condition will be young parents.' To have a resource available which so simply and sympathetically, portrays the illness can only be an advantage to both families and the wider community in de-mystifying this particular mental illness.
Sue Keane
---
Review From ReadPlus Feb 06 2015
My happy sad Mummy by Michelle Vasiliu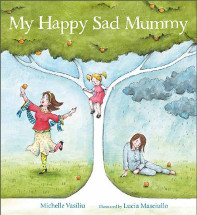 Ill. by Lucia Masciullo. JoJo Publishing, 2014. ISBN 9780987358684
Highly recommended. Michelle Vasiliu's sensitively portrays the reality of living with bipolar disorder and the impact this has on family life. She draws from her personal experiences describing the up days of frenzied activity and the down days of crying, staying in bed or not moving from the couch. Mummy's moods and actions are seen through the eyes of her young daughter. When Mummy can't stop gardening, the little girl quietly falls asleep under a tree. She plays around the couch and seeks to make her mother smile by bringing an offering from the garden. Luckily, both mother and child are loved and supported by the husband-dad and the grandparents.
My happy sad Mummy is a valuable resource for families, teachers and health care providers, it explains mental illness in an empathetic and easy to understand manner. Lucia Masciullo's sensitive illustrations add a depth of understanding of the text. The front cover poignantly portrays the upbeat mum and the sad one with the little girl sitting in the fork of a tree caught in the middle.
Highly recommended for shared reading with families, classes and health care environments.
Rhyllis Bignell
---
Feature Article in the Salvation Army magazine Warcry, 31st January 2015
---
A Child's View on having a Bipolar Mum, Amazon November 7, 2014
This review is from: My Happy, Sad Mummy (Paperback)
The description of this children's book is very much to the point and hardly needs expansion here. This is very well written and heart felt and while aimed at children it is just as easily appropriate for adults. Lucia Masciullo has enhanced the story with her excellent illustrations. This is a must read and in particular for those going experiencing bipolar as a sufferer or those living with the person. While it is about a mother and her daughter it easily translates to men, grandparents and so on.
---
---
Foreword for "My happy sad mummy" by Michelle Vasiliu written by Professor Philip Mitchell AM, Scientia Professor and Head, School of Psychiatry, University of New South Wales, Sydney, Australia, and Director of the Black Dog Institute.
"My happy sad mummy" is an engaging and sensitive picture book. It fills a major gap: explaining to a young child the impact on a parent of a major mental illness such as bipolar disorder. Bipolar disorder – which used to be called manic-depressive illness – affects between 1 and 2% of us.
As it usually begins in late adolescence or during the twenties, many with this condition will be young parents. Bipolar disorder is characterised by dramatic swings of mood between the extreme 'poles' – hence the term bipolar disorder – of exuberant happiness ('mania') on the one hand, and marked despondency ('depression') on the other. When not experiencing these swings, the person recovers fully to their normal personality and behaviour.
Arising from Michelle Vasiliu's own experience of bipolar disorder, her lavishly illustrated book portrays cleverly and humorously the emotional roller-coaster of this illness as it may be perceived by a young child.
Using easily understandable images and words, we see "mummy" through the eyes of the child. During her mania, mummy laughs and talks all day long, but becomes so preoccupied with her own work in the garden that she forgets about her child who falls asleep with exhaustion trying to keep up with her. During her depression, mummy cries, becomes quiet, wants to sleep, and is unresponsive to her child's enthusiasms. At times mummy needs to go to hospital, so grandma and grandpa come to help. But through all these difficulties, the bond of affection between mummy and the child remains strong and true.
This book will be an invaluable resource for parents, guardians, teachers and mental health workers. I strongly recommend "My happy sad mummy" – I have not seen anything of its like before. For young families adapting to a parent developing bipolar disorder it will be invaluable. For other young children, it will be an attractive and sensitive introduction to understanding and destigmatising this common mental illness.
---
Endorsement by Professor Florence Levy, Child and Adolescent Psychiatrist, School of Psychiatry, University of New South Wales.
My Happy Sad Mummy has been written by a mother who was hospitalized for Bipolar Disorder, but was unable to find a suitable resource to use as a discussion point about her illness with her 3 and 6 year old children. The present delightful picture book presents a child-perspective on a mother's mood changes, and thus provides a basis for a discussion of having a "happy/sad" mother. Given the current lack of suitable resources for children of the mentally ill, it is a very useful addition to this limited literature.  
---
Endorsement by Rose Cuff, Executive Director of the Satellite Foundation and Victoria FaPMI Coordinator.
Author Michelle Vailiu has written a book for young children which sensitively and in a well-balanced manner describes children's varied experiences when their parent has a major mental illness, in this case, bi-polar affective disorder. Michelle's person journey of living these experiences suffuses the book with meaning and a gentle humour which will provide families with wonderful opportunities for conversation about making sense of the situation. My Happy Sad Mummy will be a welcome addition to the limited stable of resources for this age group.
---
PIO – an interactive e-zine magazine . Author interview with MICHELLE VASILIU, 24 November 2014.
Your first picture book My Happy Sad Mummy has just been launched.
What is it about and what makes it unique?
My Happy Sad Mummy is about a mother who has bipolar written from the point of view of a young girl. It is unique in that there are very few picture books in the world for preschoolers and early primary aged readers about mental illness, in particular bipolar. This is in spite of the fact that one in five children live with a parent who has a mental illness.
Why did you write it?
I wrote it because at the time when I was first diagnosed with bipolar in 2007, my children were six and three and there was nothing suitable in the way of books that I could find. Being an author and having young children meant picture books were a big part of our lives. When I was in hospital I asked the staff to help me find a picture book that could help explain my illness to my children. It took a long time before they came back to me and when they did, I was given a list of resources which really didn't meet my needs.
The very few picture books on the list were largely overseas titles, very dated, or extremely difficult to source, and by this I mean, I had to go to considerable effort to obtain them. For eg I remember there being one book on the list that required me to ring overseas, which I did but never got through.   It was a very frustrating experience, and when you're sick, it makes it even more difficult. What I wanted was a suitable book in my hands right then and there. There wasn't one, so years later, when I was well, I decided to write one myself.
What do you hope to achieve having written My Happy Sad Mummy and how do you think this will be achieved.
It's my hope, that in the not too distant future, picture books dealing with mental illness wil be readily available to those who need them, by having them easily sourced, or better still, in the places where parents with a mental illness are likely to be, as in a psychiatrist hospital, or the rooms of a psychiatrist, psychologist, doctor, maternal health care rooms and so forth. Issue books such as mine are few and far between because many mainstream publishers believe the market is too small so they do not take them on. Fortunately, issues like mental illness are now becoming less taboo to talk about and the smaller, niche publishers are willing to take the risk in publishing children's books that deal with sensitive topics. Given the fact, smaller publishers don't have the extensive networks that the larger publishing houses have, it's really difficult to get the word out there that books such as mine exist. The best way these days is through social media and that means a lot of time on Face Book and so forth, hoping readers will "like" and "share" information about books like My Happy Sad Mummy.
---
"Your book is very special and I loved it. You hit the nail on the head in a very gentle but strong way".
Jay Dale, Teacher and Publisher, Upload Publishing
4th February 2015
---
Your "book is very beautiful…As a writer, I really like the simplicity and pace of your writing and the framework of the flowers growing."
Maura Finn, Business Support Officer, Melbourne City Council, Children's Author.
15th December 2014
---
"Your book is exemplary. Rarely have I seen a picture story book dealing with this kind of family situation in such a natural and authentic way. I commend you for your ingenuity: using your personal experiences to support and teach others."
Anne Speekman CEO Catholic Education Department Sale
10th December 2014